Lycée Rodolphe Töpffer is a French lycée that was founded in Geneva in 1954. It is a cosmopolitan establishment that welcomes approximately 220 students aged from 9 years old and over to our day and boarding school. Along with our experienced approachable staff we form a motivated, dynamic team. The family-like environment enables us to accompany students in a personalised setting, taking into account both present needs and future aspirations.
Educational Objectives
Our students are fully prepared for:
entry into the Genevan junior high school (cycle d'orientation).

entry into the Genevan high school (collège), engineering schools, art schools, business schools, etc.

the French baccalaureate, which enables entry into all Swiss and foreign universities

Foreign language assessment including Cambridge, TOEFL, IELTS, Goethe-Institut, DELE, etc.
Both dynamic and demanding, lycée Töpffer aims to offer its students high quality teaching support, a thorough learning programme and solid learning methodology. Personal growth and academic success are the cornerstones of our teaching and philosophy.
HOLIDAYS 2023 - 2024
| | |
| --- | --- |
| Boarding school opens | Sunday 27th August from 2pm |
| Classes start | Monday 28th August 8:15am |
| "Jeûne genevois" bank holiday | Thursday 7th September |
| Mid-term grades | 18th October approx. |
| Half term holiday | Wednesday 18th October 5pm to Monday 30st October 8:15am |
| First term report | 20th December approx. |
| Christmas holiday | Wednesday 20th December 12am to Monday 8th January 8:15am |
| Half term holiday | Friday 16th February 5pm to Monday 26th February 8:15am |
| Second term report | 28th March approx. |
| Easter holiday | Thursday 28th march 5pm to Monday 15th April 8:15am |
| Labour Day bank holiday | Wednesday 1st May |
| Ascension holiday | Wednesday 8th May 5pm to Monday 13nd May 8:15am |
| Pentecost (Whit Monday) | Monday 20th May |
| End of year report | 21st June approx. |
| End of school year | Friday 21st June 11am |
| Summer Camp | 8th to 20th July |
| Classes start | Monday 19th August 2023 (Boarding school opens Sunday 18th August from 2pm) |
Primary Classes
(from 9 years old)
Classes
Our establishment accepts children in their last two years of primary, known in Geneva as 7P and 8P Harmos, and in France as CM1 and CM2 (Year 5 and 6 in UK system and 4th and 5th grade in USA).
GENERAL INFORMATION
School equipment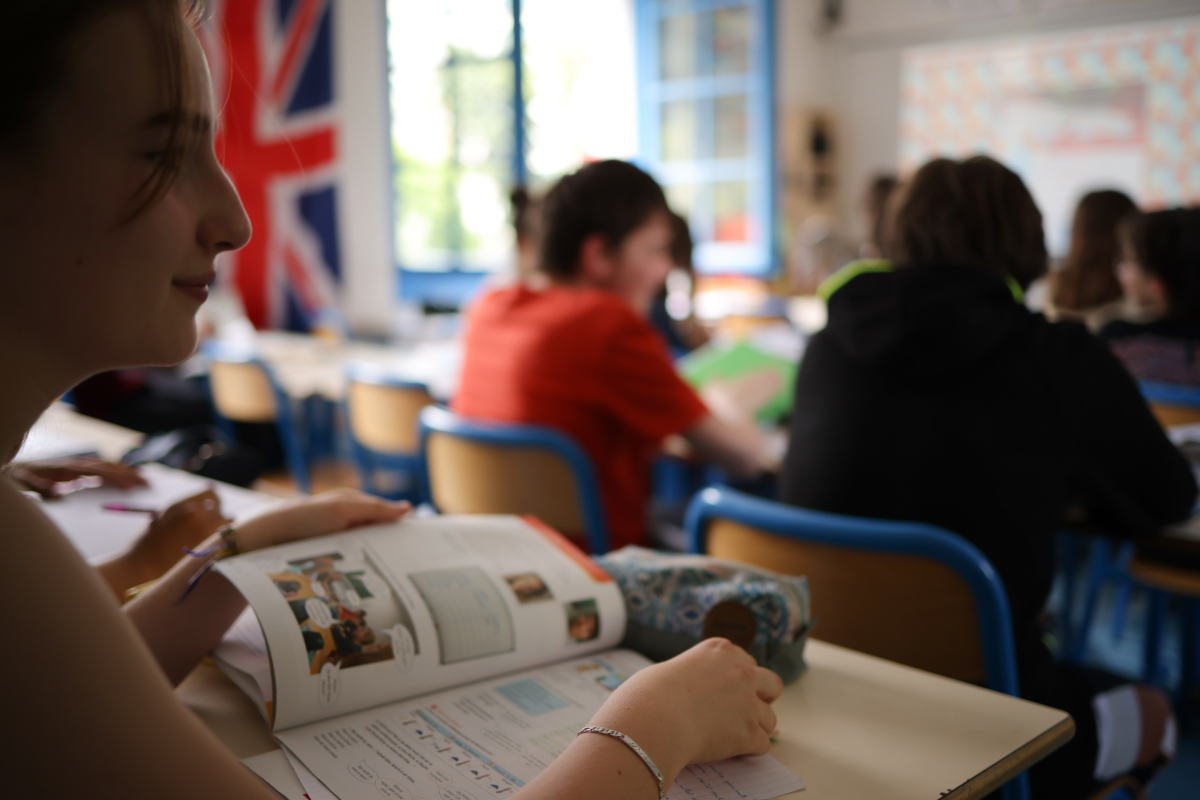 At the start of the school year each student must bring the following equipment: a school bag, homework diary, complete pencil case, coloured pencils (small box), compass, simple calculator (until class of 3ème and afterwards a Texas Instrument TI-83 CE PYTHON edition), ruler, set square, protractor, A4 squared paper. We recommend students use medium width A4 ring binder with two rings (as opposed to four), with coloured dividers and plastic sleeves. Each teacher will also give students a list of specific equipment depending on their subject.
Textbooks will be given out during the first few days of term. The invoice for books, along with a flat rate for photocopies and educational material will be sent to parents.

Primary students will receive a separate list of necessary equipment.

The students have lockers assigned nominatively by the school assistant, all they have to do is bring a padlock.
Daily timetable
 (*concerns the boarding house):
| | |
| --- | --- |
| 7am/7:15* | Wake up and breakfast |
| 8:15am | Lessons start (each lesson lasts 50 minutes) |
| 10am-10:15am | Morning break and snack |
| 12-1:05pm | Lunch break |
| 1:05pm | Lessons start |
| 3:50pm- 4pm | Afternoon break and snack |
| 4pm – 5pm | Study hall monitored by teachers |
| 6:45pm* | Evening meal |
| 7:30-9pm* | Study hall monitored by teachers or school trips and visits |
| 10:15pm* | Bedtime |
NOTICE: The daily timetable may be altered depending on individual or class timetable
SECONDARY
Classes
We follow the Swiss programmes known as 9ème R3, 10ème R3, and 11ème LS, which correspond to the three-year lower secondary Genevan system. These classes are also referred to as 6ème, 5ème, and 4ème in our establishment and are the equivalent of 6th to 8th grade in the US and years 7 to 9 in the UK systems.